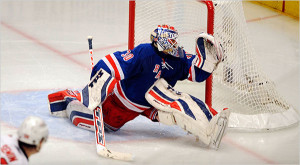 Last night was Game 2 in the second-round playoff series between the NY Rangers and the Pittsburgh Penguins.  The Penguins won the game handily, scoring three unanswered goals, tying the best-of-7 series at one-one.  Game three will be tonight in New York.
The Rangers are currently in the middle of a grueling back to back game schedule.  Last night's game was the fourth in six nights, and some wonder if goaltender Henrik Lundqvist is too tired to play every game.  Rangers coach Alain Vigneault says he's fine, and intends to keep him on the ice for every minute of the playoffs.  Indeed, Lundqvist looked sharp on the ice.  What this means for the Rangers is that the Penguins offense is a formidable force.
Much of the game was spent in Rangers defense territory, with the Penguins skill on full display.  The fact that Pittsburgh only scored three goals is actually a testament to Lundqvist's performance.  The fact that the Rangers scored none, could be a bad sign.
The Penguins took 3 major penalties in the first seven or so minutes of the game.  The Rangers, looking to take advantage of the power play only had two shots on goal.  It's going to take a lot more to bring this team down.  Both teams are excellent, and when two teams are playing at such a high level, every moment matters.  Every play, every little thing becomes important.  The Rangers need to make sure they capitalize when they have power play opportunities.
Fans at the CONSOL Energy Center loved the game, of course.  They were galvanized by the wasted chance in the first 10 minutes, and rallied behind their team.  Rangers fans are hoping that the next few games being in NYC will give the Rangers that home ice advantage to help give them an edge.
Penguins goaltender Marc-Andre Fleury set a new Penguins record last night, with his 7th postseason shutout, the most in club history.  He collected all 22 shots on goal.  The Rangers need to make Fleury work harder.  It's not that he had such a great game, it's that there just weren't enough shots on goal by the Rangers.  Analysts called the Blueshirts play sloppy, losing battles all over the ice, and offering no real pressure on offense.  Brad Richards felt that the Penguins were desperate and played harder.
On the other hand, experts are calling Lundqvist's performance among his best all season.  Some of his stops were remarkable, particularly during the second period.  He made fifteen saves, many of which will make their way to fans best-of lists at the end of the season.
The Pittsburgh coach, Dan Byslma, is hoping to turn the victory into positive momentum.  The Rangers have a tough schedule, and he wants to use that to his advantage – "We want to make the schedule a factor."